Clean Sweep by Ilona Andrews 
Series: The Innkeeper Chronicles Book #1
Release Date: 2nd December 2013
Pages: 235
On the outside, Dina Demille is the epitome of normal. She runs a quaint Victorian Bed and Breakfast in a small Texas town, owns a Shih Tzu named Beast, and is a perfect neighbor, whose biggest problem should be what to serve her guests for breakfast. But Dina is…different: Her broom is a deadly weapon; her Inn is magic and thinks for itself. Meant to be a lodging for otherworldly visitors, the only permanent guest is a retired Galactic aristocrat who can't leave the grounds because she's responsible for the deaths of millions and someone might shoot her on sight. Under the circumstances, "normal" is a bit of a stretch for Dina.
And now, something with wicked claws and deepwater teeth has begun to hunt at night….Feeling responsible for her neighbors, Dina decides to get involved. Before long, she has to juggle dealing with the annoyingly attractive, ex-military, new neighbor, Sean Evans—an alpha-strain werewolf—and the equally arresting cosmic vampire soldier, Arland, while trying to keep her inn and its guests safe. But the enemy she's facing is unlike anything she's ever encountered before. It's smart, vicious, and lethal, and putting herself between this creature and her neighbors might just cost her everything.
My Thoughts
You know those authors that you just love. Like really, really love. You wait with baited breath for the next book. You get sad at the thought of having to wait soooooo long. And you get excited every time you read something they write – even if you're re-reading it for the 4576th time. That is how I feel about Ilona Andrews. (Yes, I know Ilona Andrews is actually two people but I just refer to them as one to save time)
Now Clean Sweep has been around for awhile. I know. But, because I am apparently an idiot, I have only just read it. Twice. In one week. And by it, I mean then entire series twice. In one week. I REGRET NOTHING!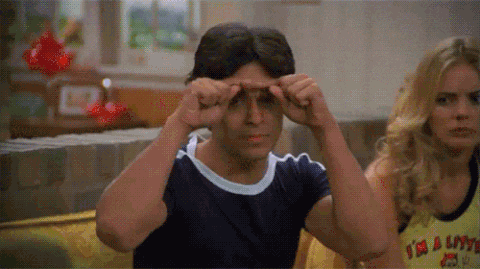 Clean Sweep, the first book in The Innkeeper Chronicles is so very different from what were used to from Andrews. I mean its the same in the sense that it is MADE OF PURE AWESOME but the setting and the genre is so different from their usual works. And as Fez has shown you above, I love it. There is really no way to talk about this plot without giving anything away so what I am going to talk about is the world, the characters, and their awesomeness.
First too all – Innkeepers. They are the owners and caretakers of inns on earth. Inns are way stations for beings from other planets. They are safe havens and rest stops for those on their travels throughout the galaxy and it is the Innkeepers job to see to the comfort and most importantly – the safety of their guests. And if you make the mistake of thinking to mess with an Innkeeper or break their rules, you will regret it. Deeply.
I love everything about the Innkeepers. I love the inns of course – they are a building, but they are alive – how awesome is that! But the coolest thing however are the innkeepers. They are seemingly harmless, every day people just running a business. But they have a wealth of power at their disposal. They can do so many amazing and incredible things and the relationship between an innkeeper and their inn is a beautiful thing. It is a deep connection that cannot be broken but for death. I love how the two thrive off of one another and how the inn protects Dina as much as Dina protects the inn and the people in it.
Andrews has taken many of our favourite fantasy creatures and given the a sci-fi twist. Vampires aren't the undead – they're aliens from another planet. They like garlic, they're fine with sunlight and they don't drink blood – they do however, have fangs. And coffee gets them drunk. Werewolves are also aliens whose planet was destroyed in a war and now they are spread out over the galaxy. There are also many more interesting, strange and compelling creatures that Andrews has filled this colourful world with. The most important person in the book however, is Dina Demille.
"Being an innkeeper meant walking a fine line between courtesy and tyranny."
Dina, like many of Andrew's female leads, is strong, intelligent, funny and knows who to take care of herself. She isn't a warrior like Kate Daniels, but she has power of her own and when people are in danger and need protecting, she'll do what she needs to in order to keep them safe. I really loved Dina as a character for many reasons but most of all the fact that she cares about so many people – and not just because she's an innkeeper and it is her duty to keep her guests safe. She's a genuinely kind person who will always try to help those who need it, even if it means putting herself in harms way. She will always try to right a wrong being done if she can.
"When a man takes up arms, he does so for many reasons. Sometimes to punish, sometimes to intimidate or frighten. But when a woman picks up a weapon, she means to kill."
Sean, the new guy in town, and an alpha strain werewolf is not what you would expect from a leading lad but he is everything Andrews is good at writing – an alpha male who isn't a dick – YAY! – he is flummoxed by Dina and her Inn and although werewolf, he is only just learning how big the world really is. We also get to meet a Vampire – Arland of House Krahr, and boy those two are a hoot when they're together. Vampire and Werewolf combo – its been done before I know (they totally make a Twilight reference in this book btw) but it works here. Trust me.
Another fascinating character is Caldenia. She is . . . unique. An aristocrat, a powerful ruler, a cannibal and well, a fugitive, Dina and her inn are the only things keeping her safe. Her commentary about Dina, about whats going on around them, her obsession with Funyun's, and offers to eat anyone irritating Dina had be giggling.
"If he ever becomes an issue, I could eat him. He looks delicious."
"Thank you, but that won't be necessary." And that wasn't creepy. Not at all.
Caldenia smiled. "You will be surprised how difficult it is to get rid of a human body. I'd say he is perhaps a hundred and seventy pounds? That's a lot of flesh to manage. We could freeze it. He'd feed me for at least three months."
Andrews has definitely picked a recipe that works – a kickass heroine with awesome powers, sarcastic wit, throw in some sexy alpha males, some life threatening situations, (sound familiar – Kate Daniels anyone?) and you have the makings of a killer cake book. It made be the same template used before but it works so meh. I mean this series was originally released for free as a weekly serial on Ilona Andrews blog, became so popular it was released ebooks and now in paperback.
Clean Sweep is humorous, imaginative, engaging and damned difficult to put down. It is – as is all of Andrews work – full with colourful characters and creatures with a rich and captivating history. Andrews always finds a way to meld history and fantasy and in this case, Sci-fi, in a way that makes it seem so believable, so real. Although it was short, this introduction into a new and exciting world got me hooked. Science Fiction and Fantasy have been woven together beautifully and combined with the amazing writing talents of Ilona Andrews this is a series not to be missed.
(Visited 36 times, 1 visits today)